There are two main types of spotlights – the GU10 and the MR16. The easiest way to tell them apart is to check the prongs on the base. Remember to turn your electricity off and cover your hands when removing bulbs from your ceiling – if it isn't LED, it could be very hot.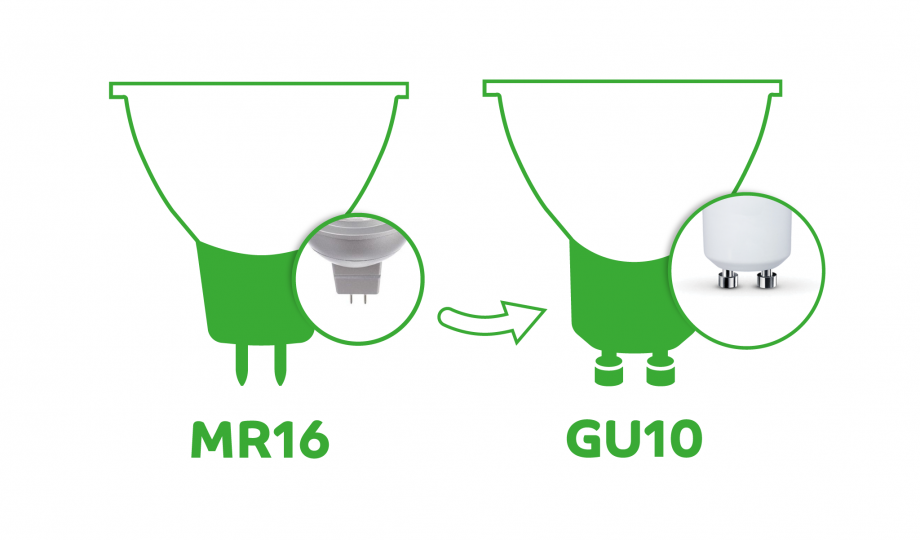 Telling the difference between GU10 and MR16
The MR16 has 2 thin pins on its base while the GU10 has 2 lugs at the end of the pins.
Why does it matter?
Now that you have successfully identified your lamp, you have two options. If it is a GU10, you can simply replace it with a LED GU10 equivalent. However, if this is an MR16 then we strongly advise you make the switch over to GU10.
This is for two reasons:
It will give you more choice in your lighting options, including smooth dimming. LED MR16's dimming systems can be very unreliable while GU10s offer excellent quality of lighting.
It will save you money. MR16s are generally more expensive and their unreliable nature means they're more likely to need replacing.
Replacing conventional MR16s with LED MR16s can be difficult as you will also need to switch each bulb's transformer to an LED compatible version.
How do I switch to GU10?
We would always recommend using a qualified electrician, but if you are confident with basic electrical work then you may choose to do this yourself. This video shows you how it's done. You will need a GU10 lampholder (the fitting that sits in the recess of your ceiling) to install your new GU10 bulbs.
So what do I need to buy?
Following the steps demonstrated in the video, as long as you have the equipment to do so, you will just need a GU10 lamp holder and a new GU10 bulb.